Late in the 19th Century, the Santa Fe Railway built its main line through the valley, by-passing Kingston. On the west side of Laton, near Grant, cattlemen Hancock, Harlan and Lillis, were now able to ship cattle from Lillis siding.

Businesses soon moved to the north bank of the Kings River along its right of way and established the town of Laton. The town was named after Charles A. Laton, who was once a part-owner of the Laguna de Tache Ranch.

Laton and the surrounding farming lands were carved out of the old Mexican Land Grant, Lagune de Tache, which consisted of more than 48,000 acres. The Grant was given to Manuel Castro in 1846 and was the only Mexican Land Grant in the central valley.

When the United States took over California from Mexico, Castro retained his right to the land, but subsequently lost part of it due to his inability to pay his taxes. He later disposed of all his holdings.

A U.S. Patent to the land was granted in 1866 and, in 1886, the firm of Poly-Heibron acquired title to the land. In the next few decades, the holdings passed through several hands, including S.C. Lillis and Associates, The Fresno Land and Canal Company, and an English concern, Laguna Lands, Limited, whose agents were W.E. Saunders and L.A. Nares. The town of Lanare, 13 miles due west of Laton, is named for Nares.

A system of canals was built and Nares and Saunders sold land to settlers from all parts of the United States. One large colony, members of the Brethren Church, came from Kansas and settled three miles west of Laton. Their descendants still worship in the original church.

The Fresno Land and Irrigation Company took the appropriate water rights to the Fresno Irrigation District, but left 30 second feet and the riparian rights with the land.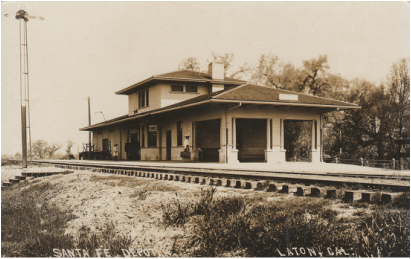 By January 1, 1902, Laton had about 60 people residing in the town, as well as 10 homes and 7 businesses, including the Santa Fe depot. One of those businesses was Laton Lumber established by J.Q. Hancock and A. Sime.
During the following year, 1903, there were big changes for the town. In January, the first hardware store, the Laton Square Deal Hardware Store, opened. Then on May 1, the first rural mail was delivered by Mr. F. VanFossen. That same year, Sunset Telephone Company strung wires between Hanford and Fresno and Laton now had telephone service. The switchboard was in Spike's Store.
---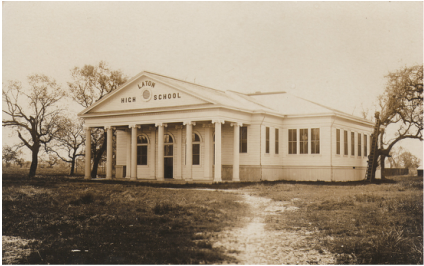 Laton High School ca 1907
In 1904, electricity was installed in Laton and that same year the elementary students were moved from the school in Kingston to Laton. The following year, talks were started regarding the building of a high school for the area. After deciding on a plan, finding the land and hiring a contractor, contruction was started in 1906 and completed the following year. In 1908,
Laton High Schoool
saw it's first graduating class of seniors.
---
In about 1910, fire swept through the wooden buildings and leveled the town. The community now has modern fire fighting equipment which is maintained by a fire district.

Laton was famous early in the 1900's for its May Day celebrations. The first May Day picnic was May 1, 1899 and they continued until after World War I. The railroad ran as many as eight excursion trains to bring visitors from as far away as San Francisco. They picnicked and watched the baseball games which were a part of every celebration.

The Laton Reds and later the Laton Oaks were able to more than hold their own will ball teams from the Bay Area and coastal points.

............................................................

The following historical information was taken from the 1905 Business Directory of Laton

The Santa Fe Railroad, the great through route from San Francisco, travels southeast through the San Joaquin Valley and eventually through the town of Laton. Laton is one of the smaller towns in Fresno County with a population of about 400. It is surrounded by one of the very best farming and fruit raising sections of Central California and is a progressive and wide-awake little town. Laton has an abundance of fine water and is one of the healthiest places in the valley. It is only one-quarter of a mile distance from the Kings River, a large and never-failing stream which furnishes the greatest abundance of water for irrigation and all other purposes. The town has a splendid and well patronized public school system, public library, electric lights, water works, broom factory, wagon and repair shops, a good hotel, one bank, a newspaper and several mercantile houses that would do credit to any city. The churches are comfortable and well attended, while all the secret orders are in a flourishing condition.

The Laton Argus, which was established nearly four years ago, is a live, up-to-date family newspaper, and has done, and is doing, a good work for this town and section, and is well patronized by the business men. A well equipped job office is run in connection, where all kinds of commercial printing is neatly executed. The editor and proprietor, C.F. Hager, is well known throughout the section and takes an active interest in the progress of his town and his paper is popular with the people.

A. G. Smith, Real Estate and Fire Insurance, is also a well known notary public. He has a large list of properties for sale and is well acquainted with the lands, titles and values and represents a good line of fine insurance companies.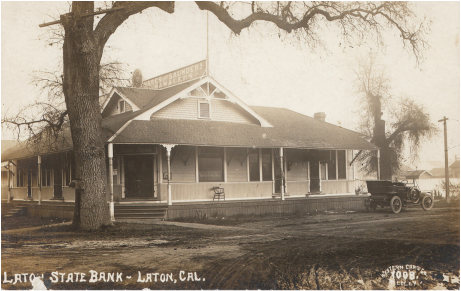 The Laton State Bank, established in March 1903, has a capital of $25,000 and every facility for doing a general banking business. It has a large fire and burglar proof safe with a time lock guaranteeing absolute safety to a stockholders and depositors. President, W. E. Saunders, came here before there was a town and is also the resident manager of the Laguna de Tache Grant, one of the finest bodies of land in the State of California. The Vice-President is J. G. Hancock who is also the president of the Laton Lumber Company, a large ranch owner and is a well-known, progressive and enterprising business man. C. A. Smith, the cashier, who has been with the bank since its organization, is a well-known business man, an extensive ranch owner and has the confidence of the people. This bank carries a large line of deposits and its business is increasing daily. A full line of reliable fire insurance companies are also represented by the bank.

The Laguna de Tache Grant, Nares & Saunders, managers, is one of the finest and one of the most productive bodies of land in the San Joaquin Valley. This section of country was first opened up to settlers in 1899, when the above-named gentlemen took over the management of the rancho, which comprises of about 68,000 acres of land. On June 1, 1899, twelve-hundred acres of this land was subdivided and offered for sale to settlers in tracts of twenty acres or more. Since that time, there have been six other subdivisions opened up and put on the market. At this time, the Laguna de Tache Grant is probably one of the best know portions of California, and one of the most extensive colonization enterprises in the state. More than 600 separate sales of land have been made up to date, April 1, 1905, in tracts ranging from 10 to 140 acres. There is now a population of about 3,000 people on the Grant, as against 60 souls that occupied the entire Grant at the time of its being placed upon the market. There is probably no community in the state, or in the west, composed of more happy and contented people than the settlers here. The lands are easy to cultivate, very productive, being especially adapted to the cultivation of grain, corn, alfalfa, vegetables and fruit of all except the citrus variety. Mr. W. E. Saunders, a member of the firm, is the resident manager, and is also president of the Laton State Bank, as well as being interested in several other enterprises. He is an enterprising, progressive business man and is always identified with the growth and prosperity of the town and country.

Fred Rauscher, proprietor of the Cologne Pharmacy, opened up here (everything new) this past November. He came from Madera where he had a practical experience in the business of pharmacy for 27 years. He has a full and complete stock and pays special attention to prescription work, and manufactures several highly recommended remedies, and has a nice trade.

J. R. Turner, general merchant, has a large store and two warehouses and carries a full and complete stock of almost everything needed by the farmer and the housekeeper. He is making a specialty of dry goods, shoes, groceries, buggies, Moline plow goods, McCormick mowers, and rakes and a general line of farm implements.

T. G. Spike, watchmaker, jeweler, stationer and news agent, carries a good assortment of jewelry, stationary, novelties, etc., and does repairs promptly and in the best manner. He also carries a full line of sporting goods, fishing tackle, etc., and has built up a fine trade. Mr. Spike is also agent for the Continental Building and Loan Association and represents the Glen Falls and the Westchester Fire Insurance Companies, and it agent for the sunset Telephone Company, and also the San Joaquin Power Company.

J. C. and L. H.Gepford, proprietors of the Fashion Stables, have been in business here for nearly two years. They have large and well-equipped stables, and one of the best lines of rigs in this section and have a good patronage. They also deal in hay, grain and livestock, and conduct a dray and transfer line and are prepared to do all kinds of hauling. They also have sample rooms for the traveling men and are owners of the well known stallion, Selim, a thoroughbred Morgan and Shire.
---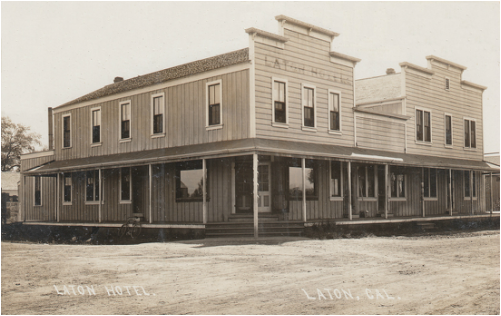 The Laton Hotel, is located opposite the Santa Fe Depot and in the center of business. It has comfortable and well furnished rooms and table equal to the best and is well patronized. The proprietor, W. S. Robinson, who has been in the business here nearly one year, but has been in this section the past 25 years.

The Laton Lumber Company, which was established three years ago, has large yards and carries a full and complete stock of almost everything in building material. They make a specialty of mountain pine, Oregon and redwood lumber. The proprietors, J. Q. Hancock and A. Sime, are well known and progressive businessmen. Mr. Hancock is also vice-president of the Laton State Bank. They also deal in grain and livestock and are interested in ranching and other enterprises. R.A. Hobson, manager or the lumber department, has been with the company since its organization.

W. C. Rayan, dealer in general merchandise, makes a specialty of dry goods, notions, millinery, novelties and groceries. He opened on July 1 (everything new) and is building up a splendid patronage.

T. E. and E. P. (Edward) Blanchard, dealers in general merchandise, made a specialty of staple and fancy groceries, dry goods, shoes and farm implements, and enjoy a splendid trade. E. P. Blanchard of the firm commenced here with Nares & Saunders, before there was any town.

H. L. Wilkinson, proprietor of the O.K. Saloon, has been in business here for three years. He keeps the best grades of wines, liquors and cigars and has always enjoyed a good trade. He has been in this part of the valley for the past fifteen years.

E. Shepherd, butcher, proprietor of the Laguna Market, has been in business here for three years. He deals in the best fresh and salt meats, all kinds of livestock and breeder of short horns.

The Laton Restaurant and Bakery is clean and first-class in every respect. The best meals and short orders are served. The bakery is well equipped and has built up a splendid trade and reputation for its goods. The proprietor, H. Hansen, is well known here and does his best to please his patrons.

The Laton Broom Factory, manufactures a superior quality of brooms for the wholesale and jobbing trade. It is well equipped with the best machinery and uses the very best materials. Mr. E. D. Simons has been in the business more than 30 years and, by experiments, has developed the finest grade of broom born in use. O. A. Simons, the junior member, was raised here and is a practical broom maker.

M. Levy & Co., proprietors of the Laton Meat Market, keep the best fresh and salted meats that can be had. They are also wholesale dealers and shippers. They have been here since the town started and have always had a good patronage. They also conduct a well equipped and up-to-date livery, feed and sales stables.

Joe Menney, proprietor of the Laton Saloon, who opened up here last fall, carries a full stock of imported and domestic wines, liquors and cigars and makes a specialty of standard case goods.

The Laton Square Deal Hardware Store, which was opened in January 1903, carries a complete stock of everything in the hardware line. It also has a well-equipped tin, sheet iron and plumbing shop in connection, and manufactures galvanized iron tanks, all sizes and prices. They are also well known well-bores and have a splendid trade.

G.M. Patton, general blacksmith, has been in business here for three years, and has been in the business in this section the past 18 years and is a well known and an excellent workman.

Dixon Brothers, general merchants, carry a large and full stock of almost everything needed by the people, and makes a specialty of dry good, gents' furnishings, groceries and produce. They have been in business here for two years and have built up a fine trade. They are now erecting a large two-story brick block on the corner of D and Fourth Street, into which they will move on or about July 1, 1905.

J. R. Goddard, proprietor of the Laton Carriage Repository, carries a good line of vehicles of all kinds and can give the closest figures. He is well known and reliable, and will treat you right.

Mrs. R. H. Bales, the well-known milliner, of Hanford, has recently opened up a branch store in Laton, with her sister, Mrs. Mollie Foster, in charge. They also have up-to-date dressmaking business.

Mrs. Ralph Chaplin, is a graduate and professional nurse with many years of practical experience. She served in the Spanish-American War and twice in the United States Indian Service. She has a large and comfortable building is prepared to take care of cases.

The Laton Barber Shop is neat and well equipped and enjoys a good patronage.

The Laton Billiard Hall has good tables and everything orderly. It is strictly first-class and well patronized. The proprietor, S. H. Robertson, treats everybody clever and has made lots of friends in his new home.

F. L. Bostwick, contractor and builder, furnishes plans and estimates on all classes of buildings. He guarantees satisfaction in all cases.


---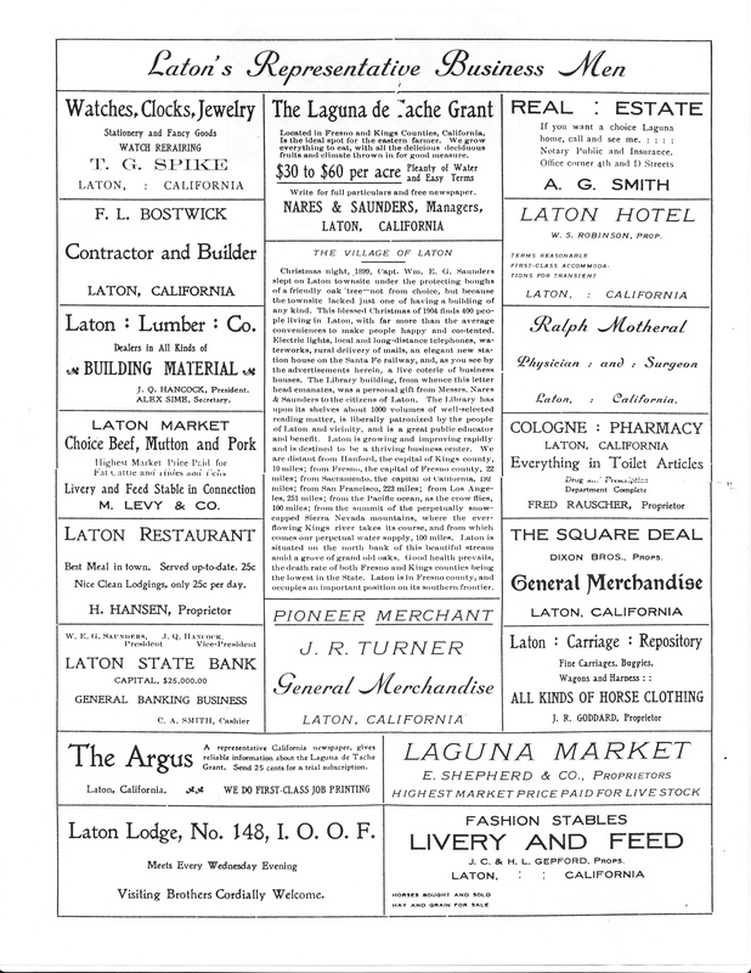 ..................................................................

In the early 1920's, the people of this area formed the Laguna Irrigation District and bought the water rights along with the equipment and canals, and have sold water to the farmers since that time.

In 1949 a group of local men formed the Laton Rodeo Association. This group stages a rodeo and homecoming each spring which is attended by thousands of people.

Laton is proud of its agricultural wealth and, under the direction of "Uncle" Fred Hochderffer, has taken many prizes for its produce at fairs, including the sweepstakes, won in 1955 at the Fresno District Fair.

Perry C. Phillips was a pioneer in the sheep industry, having owned as many as 18,000 sheep at one time. He also did general farming but later he made dairying his chief interest. His son, Robert H. Phillips, resided in the old Phillips house near Kingston for many years after his father's death.

Surrounding areas formerly were hit by periodic floods, but the construction of the Pine Flat Dam on the upper Kings River has eliminated this hazard, and the water is held in storage for the irrigation needed during the summer.

It is interesting to note the number of times newspapers have reported the town of Laton covered by floor waters, however, the town has been completely surrounded by floor waters, but the town itself has never been flooded.

.....................................................

Parts of this story were taken from a paper written in 1957 by Shirley Nester (a 1953 Laton High School graduate) as an assignment for a history class at Fresno State. Shirley's father was Al Nester, a Laton High School graduate in the class of 1930. Al served as the town constable from 1950 - 1975.